Here is the collection of Bashir Badr Shayari. This Shayari is the best Shayari said by Bashir Badr. Bashir Badr was a famous Shayar of Urdu Adab and Badr has written many Urdu ghazals. He has also worked as a chairman of the Urdu Academy. Bashir Badr Shayari covers almost all aspects of life and he has a very beautiful way to express his Shayari. No other Shayar in the Urdu Adab like Bashir Badr.
He also won so many awards for his Shayari. Bashir Badr also won Padam Shri award in 1999. So it will not wrong to say that he is the best Shayar of Urdu Adab in the modern era. He lived in Delhi for some time and his permanent address was Bhopal.
Bashir Badr Shayari is the soul of the Urdu mushaira. Bashir Badr Shayari is a model for the new Shayar and every Shayar wants to be like him. He is an idol for the modern Shayar. So let's enjoy the Bashir Badr Shayari.
Bashir Badr Shayari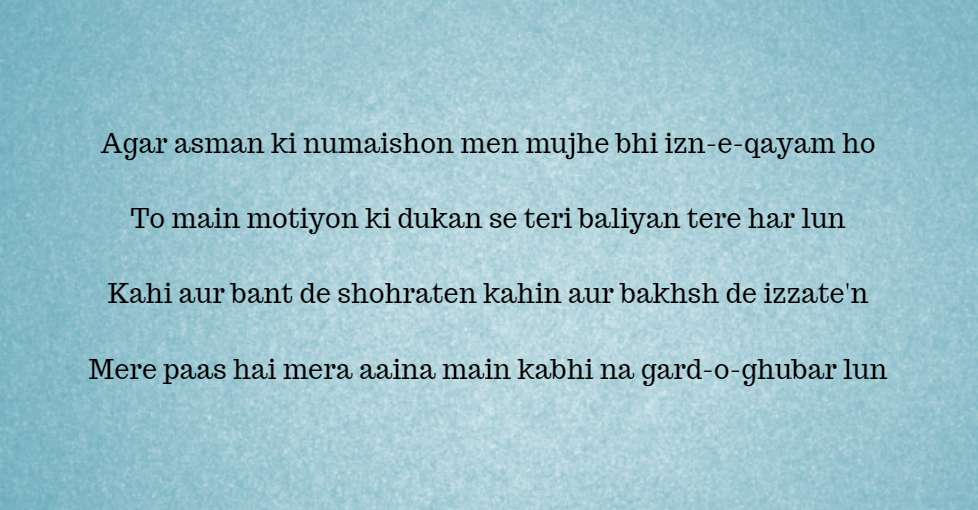 abhi is taraf na nigah kar mai ghazal ki palke sawar lun
mera lafz lafz ho aaina tujhe aaine men utar lun
mai tamam din ka thaka hua tamam shab ka jaga hua
zara thaher ja isi mod par tere saath shaam guzar lun
agar asman ki numaishon men mujhe bhi izn-e-qayam ho
to main motiyon ki dukan se teri baliyan tere har lun
kahi aur bant de shohraten kahin aur bakhsh de izzate'n
mere paas hai mera aaina main kabhi na gard-o-ghubar lun
kai ajnabi teri raah men mere paas se yun guzar gae
jinhe dekh kar ye tadap hui tera naam le ke pukar lun
---
Bhasir Badr Famous Gazal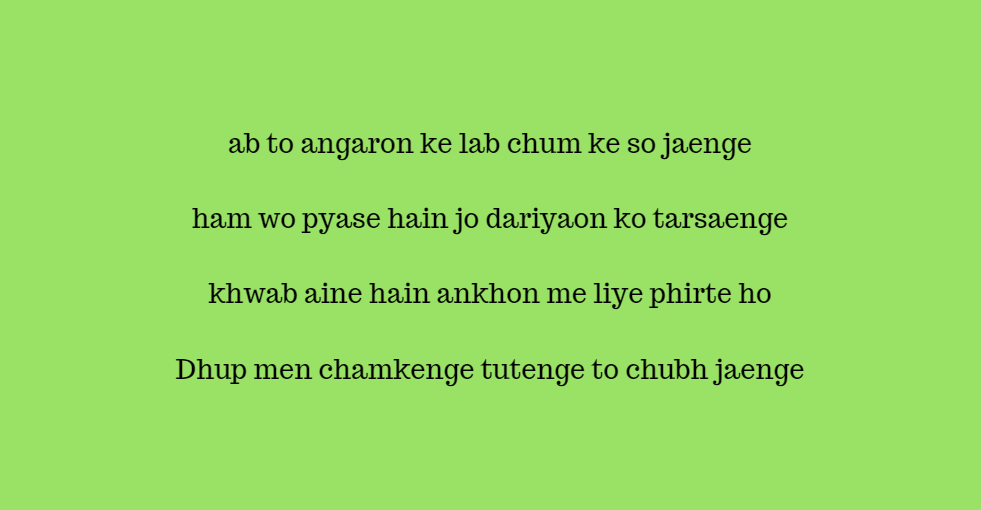 ab to angaron ke lab chum ke so jaenge
ham wo pyase hain jo dariyaon ko tarsaenge
khwab aine hain ankhon me liye phirte ho
dhup men chamkenge tutenge to chubh jaenge
subah tak dil ke darichon ko khula rahne do
dard gumrah farishte hain kahan jaenge
neend ki fakhta sahmi hui hai ankhon me
teer yadon ki kamin-gahon se phir aenge
---
Best of Bashir Badr Shayari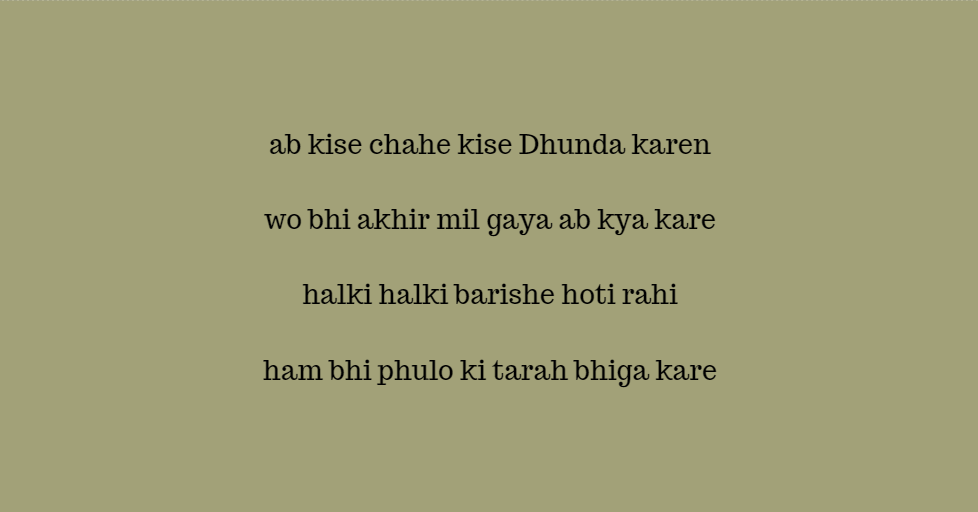 ab kise chahe kise Dhunda karen
wo bhi akhir mil gaya ab kya kare
halki halki barishe hoti rahi
ham bhi phulo ki tarah bhiga kare
aankh munde us gulabi dhup men
der tak baithe use socha karen
dil mohabbat din duniya shayeri
har dariche se tujhe dekha kare
ghar naya kapde nae bartan nae
in purane kaghazo ka kya kare
---
Bashir Badr Shayari two lines
achcha tumhare shahr ka dastur ho gaya
jis ko gale laga liya wo duur ho gaya
kaghaz men dab ke mar gae kide kitab ke
diwana be-padhe-likhe mashhur ho gaya
mahlon men ham ne kitne sitare saja diye
lekin zameen se chand bahut dur ho gaya
tanhaiyon ne tod di ham dono ki anaa
aina baat karne pe majbur ho gaya
daadi se kahna us ki kahani sunaiye
jo bdshah ishq me mazdur ho gaya
subh-e-wisaal puchh rahi hai ajab sawal
wo paas aa gaya ki bahut dur ho gaya
kuchh pal zarur aaenge roti ke ped me
jis din mera mutalba manzur ho gaya
---
Best Urdu Shayari by Bashir Badr
agar talash karu koi mil hi jaega
magar tumhari tarah kaun mujh ko chahega
tumhe zarur koi chahato se dekhega
magar vo ankhe hamari kaha se laega
na jaane kab tere dil par nai si dastak ho
makan khali hua hai to koi aaega
mai apni raah me diwar banke baitha hun
agar wo aaya to kis raste se aaega
tumhare saath ye mausam farishton jaisa hai
tumhare baad ye mausam bahut sataega
---
Gazal of Bashir Badr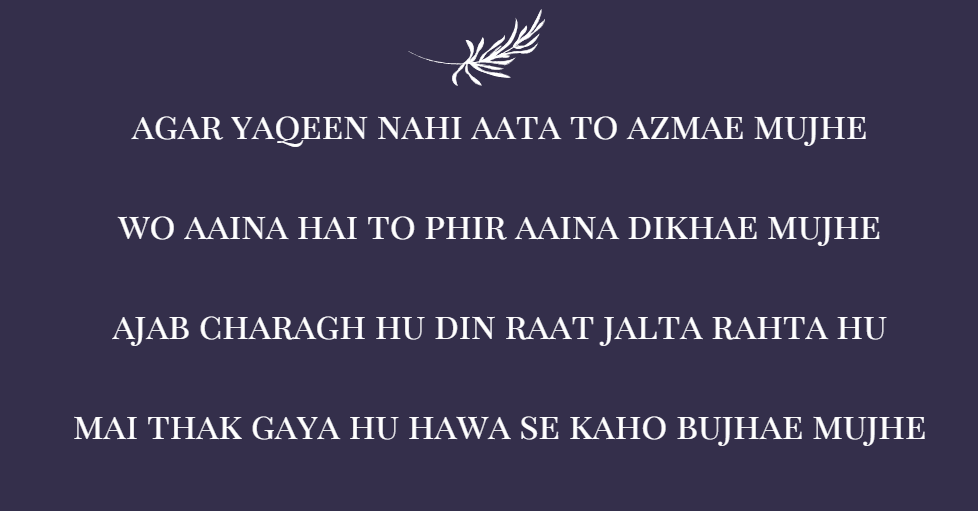 agar yaqeen nahi aata to azmae mujhe
wo aaina hai to phir aaina dikhae mujhe
ajab charagh hu din raat jalta rahta hu
mai thak gaya hu hawa se kaho bujhae mujhe
mai jis ki aankh ka aansu tha us ne qadr na ki
bikhar gaya hu to ab ret se uthae mujhe
bahut dino se mai in pattharo me patthar hu
koi to aae zara der ko rulae mujhe
mai chahta hu ki tum hi mujhe ijazat do
tumhari tarah se koi gale lagae mujhe
---
azmate sab tere khudai ki
haisiyat kya mere ikaai ki
mere honton ke phul suukh gae
tum ne kya mujh se bewafai ki
sab mere haath paanw lafzon ke
aur ankhen bhi raushnai ki
main hi mulzim hu main hi munsif hu
koi surat nahin rihai ki
ek baras zindagi ka beet gaya
tah jami ek aur kaai ki
ab taraste raho ghazal ke liye
tum ne lafzon se bewafai ki
---
Bashir Badr Shayari

bade tajiro ki satai hui
ye duniya dulhan hai jalai hui
bhari dopahar ka khila phul hai
pasine me ladki nahai hui
kiran phuul ki pattiyo me dabi
hansi us ke honton pe aai hui
wo chehra kitabi raha samne
badi khubsurat padhai hui
udasi bichi hai badi duur tak
baharo ki beti parai hui
khushi ham gharibo ki kya hai miya
mazaro pe chadar chadhai hui
---
Best Urdu Shayari
be-tahasha si la-ubali hansi
cheen gai ham se wo jiyali hansi
lab khule jism muskurane laga
phul ka khilna tha ki Daali hansi
muskurai khuda ki mahwiyyat
ya hamari hi be-khayali hansi
kaun be-dard cheen leta hai
mere phulon ki bholi-bhali hansi
wo nahin tha wahan to kaun tha phir
sabz patton men kaise laali hansi
dhup men khet gungunane lage
jab koi gaanv ki jiyali hansi
hans padi shaam ki udaas faza
is tarah chaae ki pyali hansi
main kahin jata hai ta-aqub men
us ki wo jaan lene wali hansi
---
bhigi hui ankhon ka ye manzar na milega
ghar chor ke mat jao kahi ghar na milega
phir yaad bahut aaegi zulfon ki ghani shaam
jab dhup men saya koi sar par na milega
aansu ko kabhi os ka qatra na samajhna
aisa tumhe chahat ka samundar na milega
is khwab ke mahaul men be-khwab hai ankhen
jab neend bahut aaegi bistar na milega
ye soch lo ab akhiri saaya hai mohabbat
is dar se uthoge to koi dar na milega
---
Bahsir Badr Urdu Shayari
chae ki pyali men nili tablet gholi
sahme sahme hathon ne ek kitab phir kholi
daere andheron ke raushni ke poro ne
coat ke button khole tie ki girah kholi
shishe ki silai men kaale bhuut ka chadhna
baam kaath ka ghoda neem kanch ki goli
barf men daba makkhan maut rail aur rickshaw
zindagi khushi rickshaw rail motaren Doli
ik kitab chand aur ped sab ke kaale collar par
zehn tape ki gardish munh men toton ki boli
---
chamak rahi hai paro men udaan ki khushbu
bula rahi hai bahut asman ki khushbu
bhatak rahi hai purani dulaiyan odhe
haweliyon men mere khandan ki khushbu
suna ke koi kahani hame sulati thi
duaon jaisi bade pan-dan ki khushbu
daba tha phul koi mez-posh ke niche
garaj rahi thi bahut pechvan ki khushbu
ajab waqar tha sukhe sunahre balon men
udasiyon ki chamak zard lawn ki khushbu
wo itr-dan sa lahja mere buzurgon ka
rachi-basi hui urdu zaban ki khushbu
ghazal ki shakh pe ek phuul khilne wala hai
badan se aane lagi zaafran ki khushbu
imaraton ki bulandi pe koi mausam kya
kahan se aa gai kachche makan ki khushbu
gulon pe likhti hui la-ilaha-illallah
pahadiyon se utarti azaan ki khushbu
Below written sher is updated in the year 2020
Bashir Badr Shayari 
Lahja ki jaise subah ki Khushbu azaan de
Ji chahta hai mai teri awaaz chuum lu
Pahli bar nazron ne chand bolte dekha
Hum jawab kya dete kho gae sawalon mei
Raat teri yaadon ne dil ko is tarah chheda
Jaise koi chutki le narm narm galon mein
Meri aankh ke tare ab na dekh paoge
Raat ke musafir the kho gae ujalon me
This is all about Bashir Badr Shayari. We hope you enjoyed this Shayari. If you have any queries or suggestions please feel free to write to us in the comment box below.
Urdu Shayari In Hindi love – "love Urdu Shayari In Hindi" (2018)
Sher o Shayari on Zindagi – latest sher-o-shayari collection