Here is the collection of Mohabbat Shayari 2 lines. This Sher is written by some famous Urdu poet and they are love to wrote on Mohabbat. This collection of "Mohabbat Shayari 2 lines" is unique and classic. You can share it on Facebook, WhatsApp or Twitter to your loving one. The collection is Hindi and English font so you can read and understand. Mohabbat Shayari 2 lines are the best way to express your feeling to your loving one. This collection has very good and latest Urdu Shayari for yours.
Urdu Shayari is the classic kind of way to deliver the feelings and it has so many untold words. This is the beauty of Shayari. But the drawback of Urdu Shayari is very few people know this language so we try to put some good Urdu Sher on the title of Mohabbat Shayari 2 lines so everyone can read this and share this to their love. The beauty of Mohabbat Shayari is, It has something for everyone. So enjoy this collection of Mohabbat Shayari 2 lines.
Mohabbat Shayari 2 lines 
 bhala ham mile bhi to kya mile wahi duriya wahi fasle
na kabhi hamre qadam badhe na kabhi tumhari  jhijak gai
andheri raat ko main roz-e-ishq samjha tha
charagh tu ne jalaya to dil bujha mera
अंधेरी रात को मैं रोज़-ए-इश्क़ समझा था
चराग तू ने जलाया तो दिल बुझा मेरा
aablon ka shikva kya Thokaro ka gham kaisa
aadmi mohabbat me sab ko bhool jaata hai
aaj dekha hai tujh ko der ke baad
aaj ka din guzar na jaae kahi
आज देखा है तुझ को देर के बाद
आज का दिन गुज़र ना जाए कही
aaj 'tabassum' sab ke lab par
afsane hai mere tere
आज 'तबस्सुम' सब के लब पर
अफ़साने है मेरे तेरे
aakhri hichki tere zanu pe aae
maut bhi mai sirhane chahta hun
आखरी हिचकी तेरे ज़ानू पे आए
मौत भी मई सिरहाने चाहता हूँ
Latest Mohabbat Shayari 2 line
aap daulat ke tarazu me dilo ko taulen
ham mohabbat se mohabbat ka sila dete hai
आप दौलत के तराज़ू मे दिलो को तौलें
हम मोहब्बत से मोहब्बत का सिला देते है
aap pahlu me jo baithe to sambhal kar baithe
dil-e-betab ko aadat hai machal jaane ki
आप पहलू मे जो बैठे तो संभाल कर बैठे
दिल-ए-बेताब को आदत है मचल जाने की
aarz hai ki tu yahan aae
aur phir umr bhar na jaae kahi
अर्ज़ है की तू यहाँ आए
और फिर उम्र भर ना जाए कही
aashiqi me bahut zaruri hai
bewafai kabhi kabhi karna
आशिक़ी मे बहुत ज़रूरी है
बेवफ़ाई कभी कभी करना
aate aate mera naam sa rah gaya
us ke hoto pe kuchh kanpta rah gaya
आते आते मेरा नाम सा रह गया
उस के होटो पे कुच्छ कानपता रह गया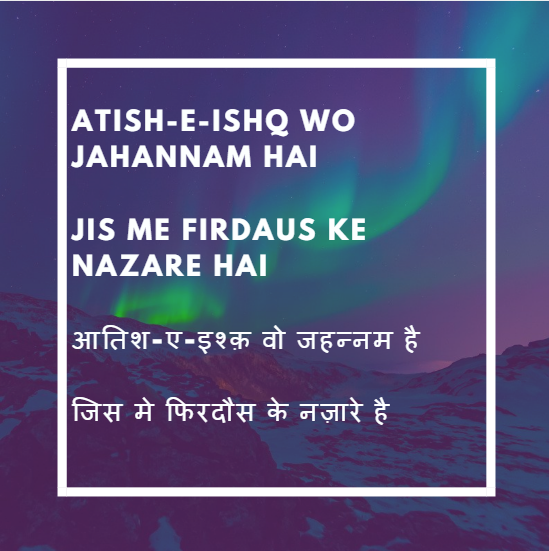 atish-e-ishq wo jahannam hai
jis me firdaus ke nazare hai
आतिश-ए-इश्क़ वो जहन्नम है
जिस मे फिरदौस के नज़ारे है
ab judai ke safar ko mere asaan karo
tum mujhe khwab me aa kar na pareshan karo
ab meri baat jo maane to na le ishq ka naam
tu ne dukh ai dil-e-nakam bahut sa paya
Mohabbat Bhari Shayari in Hindi
abhi aye abhi jaate ho jaldi kya hai dam le lo
na chodunga mai jaisi chahe tum mujh se qasam le lo
abhi na ched mohabbat ke geet ae mutrib
abhi hayat ka mahaul khush-gawar nahi
अभी ना छेड़ मोहब्बत के गीत आए मुत्रिब
अभी हयात का माहौल खुश-गावर नही
ajeeb raat thi kal tum bhi aa ke laut gae
jab aagaye the to pal bhar Thaher gae hote
apne hamrah jo aate ho idhar se pahle
dasht padhta hai miya ishq me ghar se pahle
'athar' tum ne ishq kiya kuchh tum bhi kaho kya haal hua
koi nayā ehsas mila ya sab jaisa ahwal hua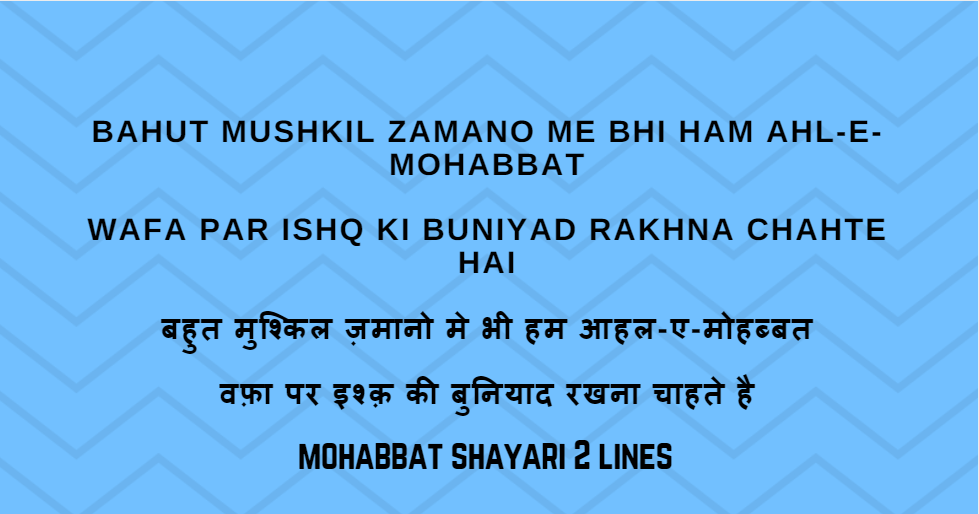 bahut mushkil zamano me bhi ham ahl-e-mohabbat
wafa par ishq ki buniyad rakhna chahte hai
बहुत मुश्किल ज़मानो मे भी हम आहल-ए-मोहब्बत
वफ़ा पर इश्क़ की बुनियाद रखना चाहते है
bas ek hi bla hai mohabbat kahe jise
wo paniyo me aag lagati hai aaj bhi
be tere kya wahshat ham ko tujh bin kaisa sabr o suku
tu hi apna shahr hai jane tu hi apna sahra hai
be-niyaz-e-dahr kar deta hai ishq
be-zaro ko laal-o-zar deta hai ishq
बे-नियाज़-ए-दहर् कर देता है इश्क़
बे-ज़रो को लाल-ओ-ज़र देता है इश्क़
bhala aadmi tha pa nadan nikla
suna hai kisi se mohabbat kare hai
भला आदमी था पा नादान निकला
सुना है किसी से मोहब्बत करे हैं
Below written sher is updated in the year 2020
Mohabbat Shayari 2 lines
Raat teri yaadon ne dil ko is tarah chheda
Jaise koi chutki le narm narm galon mein
So this is all about Mohabbat Shayari 2 lines. We hope you enjoyed this. If you have any kind of query or suggestions please write to us in the comment box below.
Urdu Shayari In Hindi love – "love Urdu Shayari In Hindi" (2018)
Sad Urdu Shayari in Hindi – Best of Urdu Shayari In Hindi (2018)
2 line romantic Shayari in Hindi – 2 लाइन रोमैंटिक शायरी इन हिन्दी